Strength for the Endurance Athlete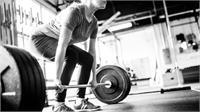 This 60-minute strength and power based, sport specific weight training session is geared for the endurance athlete.
Each session begins with a dynamic warm up, followed by a progressive strength routine to increase your muscle fiber recruitment, elevate your strength and overall power for your upcoming season! Choose from 1 to 2x per week.  However, to maximum results, 2x/week is recommended. 
Days/Times:  Monday & Wednesdays 5:30-6:30am OR 6:00-7:00pm
Sessions
Fall I - September 30th through November 6th
Fall II – November 11th through December 21st
Winter I – January 6th through February 15th
Winter II – February 17th through March 28th
*Note Starting Fall II session and beyond, a Saturday option will be added that will include a full body focus
Cost:  $209 for 3x/week, $199.00 for 2x/week or $129.00 for 1x/week for the 6 weeks  
Click HERE to register